Andover Ladies Choir

Winners of Folk Song, Pop/Show Song and Sacred Classes at the MidSomerset Festival 2023, with the only Outstanding of the day.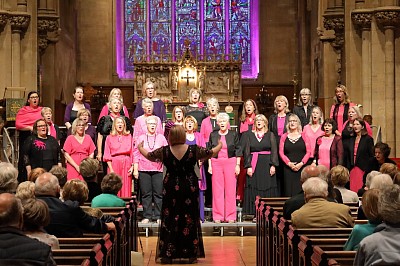 A Christmas Celebration with Beenham Wind Orchestra, Sunday 10 December, 4.30pm. Kennet School, Thatcham, RG19 4LL. 
Tickets £12.50, children 5-16 £2.50, under 5s free.
https://www.ticketsource.co.uk/beenham-wind-orchestra/t-yapdygy

Andover Ladies Choir is a 3-part harmony choir of 40 ladies from Andover, Hampshire.
Formed in September 2017, rehearsals are held on Wednesday evenings in term time, 7.30-9.30pm, in Thruxton Memorial Hall, SP11 8LZ.

Repertoire is varied with folk songs, pop ballads, musical theatre and classical songs. Your first rehearsal is free, with no audition required, so do come along and join us. We are a friendly group of women who love singing great music to high standards.
If you want further details call Clare on 07970 139395